Advanced Rider Courses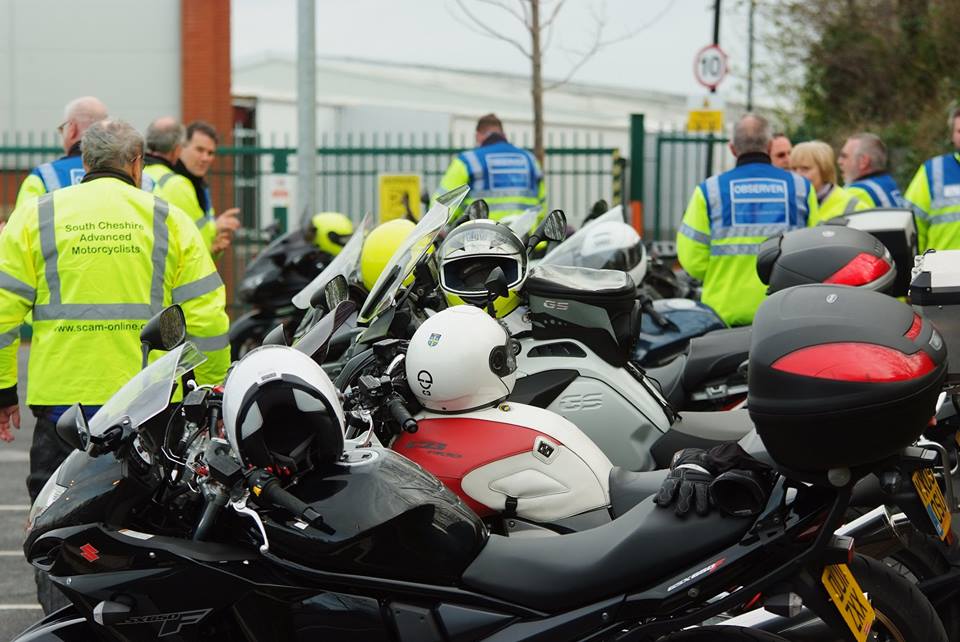 Booking an Advanced Rider course
Details about undertaking an Advanced Rider course with South Cheshire Advanced Motorcyclists are contained within our Information Pack
If you wish to enroll on a course, please do so via the IAM RoadSmart web site https://www.iamroadsmart.com/courses/advanced-rider-course Alternatively, courses can be booked by telephoning IAM RoadSmart on 0300 303 1134 and paid for by credit/debit card.
SPECIAL LIMITED OFFER
The cost of the IAM RoadSmart Advanced Rider Course is £149. However, due to a road safety initiative operated by Cheshire East and Cheshire West with Chester Councils, anyone residing within the boroughs can benefit from the following discounts.
- a 10% discount when applying to IAM RoadSmart by entering promotion code CFR10.
- upon completion of the course, a refund of 50% of the course fee paid to IAM RoadSmart.
Residents of Cheshire East/Cheshire West with Chester Councils can therefore undertake an Advanced Rider course for a total cost of £67.50.
Advanced Rider Course Dates for 2018
NB Please ensure that you arrive at least 15 minutes prior to the commencement time with a full tank of fuel.
 
Spring Course (fully booked)
Introduction evening 7.00pm Fri 6 April, Crewe Fire Station* 
Session 1 – 9.00am, Sunday 8 April, Costa Coffee, Crewe CW1 2RP
Session 2 – 9.00am, Sunday 22 April, Costa Coffee, Crewe CW1 2RP
Session 3 – 9.00am, Sunday 13 May, Costa Coffee, Crewe CW1 2RP
Session 4 – 9.00am, Sunday 27 May, Costa Coffee, Crewe CW1 2RP
Session 5 – 9.00am, Sunday 10 June, Costa Coffee, Crewe CW1 2RP
Session 6 – 9.00am, Sunday 24 June, Costa Coffee, Crewe CW1 2RP
Summer Course (places available)
Introduction evening 7.00pm Fri 29 June, Crewe Fire Station*
Session 1 – 9.00am, Sunday 1 July, Costa Coffee, Crewe CW1 2RP
Session 2 – 9.00am, Sunday 15 July, Costa Coffee, Crewe CW1 2RP
Session 3 – 9.00am, Sunday 29 July, Costa Coffee, Crewe CW1 2RP
Session 4 – 9.00am, Sunday 12 August, Costa Coffee, Crewe CW1 2RP
Session 5 – 9.00am, Sunday 2 September, Costa Coffee, Crewe CW1 2RP
Session 6 – 9.00am, Sunday 16 September, Costa Coffee, Crewe CW1 2RP
Autumn Course (places available)
Introduction evening 7.00pm Fri 28 September, Crewe Fire Station*
Session 1 – 10.00am, Sunday 30  September, Costa Coffee, Crewe CW1 2RP
Session 2 – 10.00am, Sunday 7 October, Costa Coffee, Crewe CW1 2RP
Session 3 – 10.00am, Sunday 21 October, Costa Coffee, Crewe CW1 2RP
Session 4 – 10.00am, Sunday 4 November, Costa Coffee, Crewe CW1 2RP
Session 5 – 10.00am, Sunday 18 November, Costa Coffee, Crewe CW1 2RP
Session 6 – 10.00am, Sunday 2 December, Costa Coffee, Crewe CW1 2RP
2018 certificate presentations to successful candidates at Cheshire Fire & Rescue HQ, dates to be confirmed. ** 
Events marked * at:
Cheshire Fire & Rescue
Crewe Community Fire Station
Macon Way
Crewe CW1 6DS
(Note:  Access via rear gate off the A534, Crewe Road, turn left into Ludlow Avenue and immediately left into access road leading to rear of Fire & Rescue Station.)
Events marked ** at:
Cheshire Fire & Rescue HQ
Sadler Road
Winsford
Cheshire
CW7 2FQ
(At the rear of Winsford Fire Station)